Get A Chance To Win
$1000 Set Of Callaway Golf Clubs!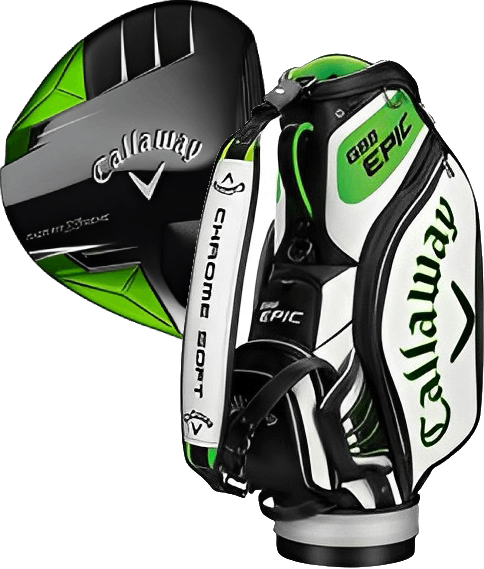 ---
What Kind of Golf Clubs 
Are Best For You?
The most important factor to consider when choosing a new golf club is fit. A club that fits your swing, body type, and skill level will lead to better performance and more enjoyment on the course. Other important factors to consider include:

Flexibility:
The right club should have the right amount of flex in the shaft to match your swing speed.

Length:
The length of the club should match your height and arm length.

Loft:
The loft of the club should match your swing speed, trajectory, and desired ball flight.

Grips:
The grips should be comfortable and the right size for your hands.

Type of club:
Consider the type of club you need based on the type of shot you want to play, e.g., driver, fairway wood, iron, etc.


Ultimately, the best way to determine which golf club is right for you is to try out different options at a golf store or on a driving range before making a purchase.
---
Why Callaway Golf Clubs Are Top in the World:
A Closer Look
Callaway golf clubs are considered to be among the top golf clubs in the world for several reasons:

Innovation:
 Callaway invests heavily in research and development to create innovative technologies that help golfers improve their performance. They were one of the first companies to incorporate carbon fiber into golf club design and have continued to develop new materials and technologies to enhance performance.

Consistent Performance:
Callaway golf clubs are designed to deliver consistent performance across the board, whether you are hitting a driver, iron, wedge, or putter. This helps golfers to build confidence in their game and perform at their best.

Forgiveness:
Callaway clubs are engineered to be forgiving, meaning that they are designed to minimize the negative effects of off-center hits. This helps golfers achieve more consistent results and can be particularly helpful for beginners or golfers with higher handicaps.

Tour Success:
Callaway clubs are used by many of the top professional golfers in the world, including Xander Schauffele. This helps to build trust and credibility in the brand and contributes to their overall reputation.

Wide Range of Options:
Callaway offers a wide range of golf clubs to suit all types of golfers, including drivers, irons, hybrids, wedges, and putters. They also offer customization options such as shaft length, grip size, and club head design, so golfers can tailor their clubs to their specific needs.

Aesthetics:
Callaway golf clubs are often praised for their sleek and modern designs, which can be appealing to golfers who value style as well as performance.

Overall, Callaway golf clubs are considered to be among the top golf clubs in the world due to their innovation, consistent performance, forgiveness, tour success, wide range of options, and aesthetics. These factors make them a popular choice among golfers of all levels, from beginners to professionals.